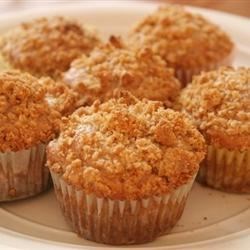 Hey guys! So I haven't done a post in aaagggeees! But anyway, I made Apple Cinnamon Cupcakes recently - and they are HEAVENLY. Just a few tips though, I made mini ones, so they bake for 15 minutes instead of 25. Also, if you would like big juicy chunks of apples in your cupcakes, you should make them at least around 1cm thick or so. The batter turned out very thick, but trust me, it is absolutely delish! I made mine without any icing, but I do have the recipe for icing if you need it (I haven't tried it out yet though - Its a Cinnamon Buttercream - Sounds good) These are very simple, and the only part that takes the most time is chopping up the apples :)
Ingredients:
2 cups self-raising flour, sifted
1 cup sugar
1/2 tsp cinnamon (you can put more if you like - depends on your taste)
Pinch of salt
1 egg
1 tsp vanilla
3/4 cup milk
1/3 cup oil
1 cup apples, chopped (doesn't matter what kind)
Method:
1) Preheat oven to 180 C
2) In a bowl, whisk to combine flour, sugar, cinnamon and salt.
3) In another bowl, combine egg, milk, vanilla, oil and apples
4) Fold wet ingredients into the dry ingredients using a spatula
5) Fill each paper cup to just a little bit over 2/3. Put into the oven for 22- 25 minutes (15 minutes for mini ones)

ICING

Ingredients:

1 cup butter, softened
4 cups powdered sugar (you can cut it down)
1 tsp cinnamon
5-6 tbsp milk (enough milk to make your desired consistency)

Method:

1) Whip butter with electric mixer until light and fluffy
2) Add powdered sugar, cinnamon and milk

NOTE: After icing cupcakes, you can sprinkle some cinnamon on top to make it look pretty :)